Architectural Trail
The natural environment has significantly shaped architecture and human settlement, with towns and smaller settlements in the Outer Hebrides all close to the sea. The wet and windy climate is harsh on buildings and the architecture reflects this. This Architectural Trail has selected 29 notable places from the Butt of Lewis to Barra, with sites ranging in age from the Iron Age to the present.
This trail is a mixture of public and private sites, historic and modern. These buildings show the skills and desires of island designers and craftsmen, mostly using local stone, sand and gravel. Other building materials were imported, since there is little timber or clay for building use. The importance of religion is reflected in some of the buildings chosen, while new buildings show the confidence Islanders have in reflecting their changing needs and aspirations.
As a result of the history of land ownership, very few houses predate 1880. The traditional dry-stone walled blackhouses, built in the North Atlantic longhouse tradition, gave way to newer White-houses with rendered stonewalls and a few standard layouts. Modern private homes now span a range of building materials, both local and imported, and feature unique and creative architectural design.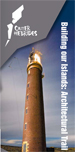 Acclaimed photographer John Maher has photographed the buildings, capturing the beauty of the islands' variety of architecture.
Click on the image to download the trail leaflet.
To celebrate the RIAS Festival of Architecture, Western Isles Architects Group and An Lanntair teamed up to create this"Building our Islands" project to increase awareness of architecture in the Outer Hebrides. For more information on The Building our Islands project click here.
Number of results:
Number of results: 29
, currently showing 1 to 20.
Use the Itinerary Planner to plan your perfect holiday, then either book it yourself or send it to our local holiday operator partner for a complete quotation.
Itinerary Planner
Build your own itineraries by clicking the

button to add an item to your Itinerary basket.
If you already have an itinerary saved, you can access it below.