Arts and Crafts
The Outer Hebrides are home to some of the finest arts and crafts in the world, inspired by the stunning scenery and rich heritage of the chain of islands. Check out our Made in the Outer Hebrides online downloadable guide which showcases our amazing artists and makers on the islands.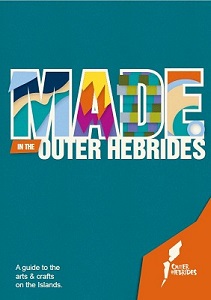 As the home of Harris Tweed, the archipelago has become something of a fashion hotspot in recent years. The historic tradition of weaving the tweed has turned the Outer Hebrides into the home of one of the most coveted fabrics in the fashion world. Many local craftsmen and women use Harris Tweed in their designs, and a number of handmade items are sold in the local shops – from Harris Tweed dolls to handbags and dresses. Indeed, the Outer Hebrides has the prestigious accolade of being one of 5 European regions to be designated as a World Craft Region for Harris Tweed.
A huge variety of other locally made crafts is available, using local products and drawing inspiration from the beautiful surroundings of the Outer Hebrides.
The artwork produced on the island is second to none in Scotland, and portrays the stunning scenery of the islands in awe-inspiring form – through paint, sculpture and even quilt-making. A number of galleries across the islands display the local artwork. The largest of the galleries is An Lanntair – an art gallery, cinema and music venue situated in the very centre of Stornoway. More rural galleries showcase art amid the very surroundings that have served as inspiration. In the isle of North Uist, the award-winning Taigh Chearsabhagh Museum and Art Centre displays and sells locally inspired artwork as well as a collection of over 1000 artefacts relating to the culture and heritage of the isles and also serves as an art school.
In Barra, head to Buth Bharraigh to experience local art and crafts including Barra Bunting Project.