EAT DRINK HEBRIDES
Eat Drink Hebrides, part of Outer Hebrides Tourism, was established in 2016 to support food and drink businesses across the Outer Hebrides from Barra to the Butt of Lewis. There are currently 70 + members featuring as part of the trail, which is supported both by a print-leaflet and a range of on-line resources. There are also projects throughout the year which food and drink members have the opportunity to be part of.
The Outer Hebrides, with a strong history of traditional crofting and fishing, has an abundance of local produce. Visitors can follow the Eat Drink Hebrides Trail and follow their own, self-guided food and drink journey through the islands
For more information contact our Food and Drink Project Manager Julie. Her contact details are here.
ACTIVITIES
The food group offers a range of support to food and drink businesses across the islands showcasing their local produce, promoting and championing food tourism and experiences, whilst helping to shape sustainable offerings and businesses that work for their local communities.
Member benefits include the following:
Marketing your business on our high performing and go to website for the Outer Hebrides visitouterhebrides.co.uk- more than 2 million page views per year
Opportunity to be part of the Eat Drink Hebrides Trail and /or the Hebridean Way Pit Stop
Preferential involvement in PR and marketing activity, content and competitions
Exclusive Outer Hebrides Members community Facebook to keep up to date with news and obtain support/information from other members
Full range of advice and support from industry experts
Access to training, advice and information
Discounted tickets to tourism conference/networking events with chance to connect with like-minded business owners
Lobbying - be part of the tourism industry voice to influence your future
FOOD WITH A VIEW
Our food and drink projects also feature Food with a View which celebrates and showcases everything that is special about the islands and our wonderful food and drink offer.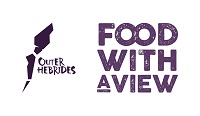 FOOD AN DRINK EBOOK
This was developed to showcase the amazing food and drink offer we have on our islands: https://www.visitouterhebrides.co.uk/food-and-drink
MEET THE PRODUCER
Our amazing Outer Hebrides food and drink producers have been giving an insight into their businesses, showcasing their history, experiences, how their produce is made/grown/reared and why they take such pride in it.
The first event was held in spring 2023 (Lewis and Harris) further events autumn 2023/Spring 2024 (Uist and Barra).
More information here.
SCRAN PODCAST
As part of the media campaigns, we are very excited to be welcoming Rosalind Erskine and Kelly Crichton of the Scotsman's Scran podcast team to join the Outer Hebrides Tourism Meet the Producer – Sourcing Scotland Regional Event in Uist on 6th and 7th September. They will spend the tour meeting the producers and attendees, whilst capturing interviews at some of the places along the way. This will be edited into an exclusive Scran podcast episode for Uist.
SCOTLAND FOOD AND DRINK EXCELLENCE AWARDS

We are delighted to announce that we have WON this year's Scotland Food and Drink Excellence Awards in the Regional Food and Drink Award category!
Iain Baxter, Chief Executive at Scotland Food & Drink, said: "The Excellence Awards highlights the commitment and passion of the industry to preserve and adapt through some of the most difficult times".