We create insipring content and have a reach of well over 2 million hits on our website. Our Membership Packages provide access to a range of benefits designed to promote, connect and grow your business. The packages include a listing on our go to Outer Hebrides website www.visitouterhebrides.co.uk and also an opportunity to join the Eat Drink Hebrides Trail and/or the Hebridean Way Pit Stop Schemes.
Why Join us?
Apart from supporting your local tourism industry, there are lots of great benefits and opportunities for your business: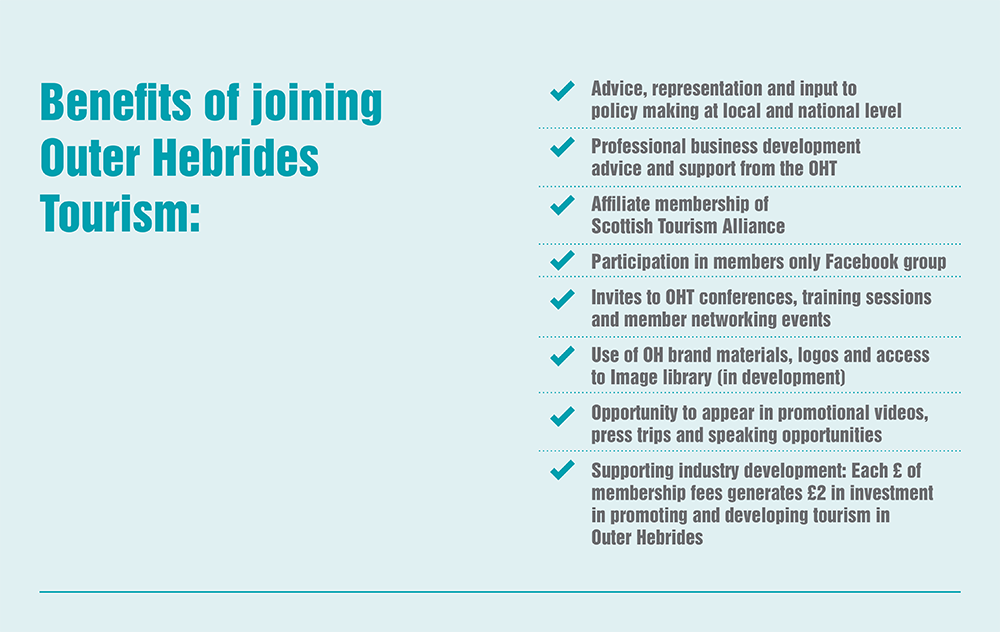 It is really easy to join!
Just select the membership package that is right for you based on:
Whether you are an ACCOMMODATION PROVIDER or an OTHER BUSINESS (Attraction, Food and Drink, Activity Provider, Retail, Arts and Crafts, Tours etc)
The size of your business (SMALL, MEDIUM, LARGE)
The level of promotional package you want (BRONZE, SILVER, GOLD OR PLATINUM)
Join HERE
PLEASE NOTE:
Charities and Community Groups: We offer discounted rates to registered charities and community groups. Please select the package you would like and we will apply the discount manually.
Specialist Listings: Silver, Gold or Platinum listings can be featured on our Eat Drink Hebrides Trail or as a Hebridean Way Pitstop for an additional fee of £50 per listing.
Multiple Listings: Additional premium (Silver, Gold, Platinum) can be purchased at half-price. The discount will apply to the lower price listing.
Bronze Listings: All bronze listings pay a standard fee of £75, irrespective of the size of business
Outer Hebrides Tourism Members Guide: Click here.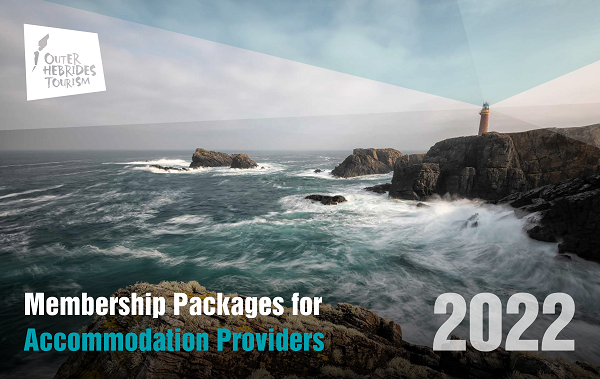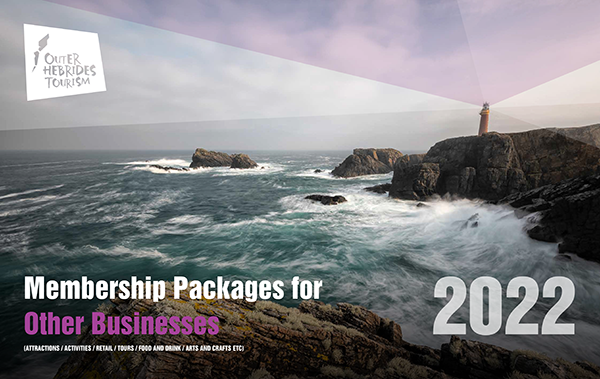 Please get in touch with us if you would like more information about our membership packages or if you are a charity/community group: enquiries@outerhebridestourism.org