About
Location 3
From the car park, a good track leads down to the shore of Loch Seaforth 1 mile away. Loch Seaforth, the longest, fjord like sea loch in the archipelago is a good area for white-tailed eagles. This is where white-tailed eagles first bred successfully in Lewis after their re-introduction and continues to be an attractive area for both species of eagle. Golden eagles can often be seen over the distant ridges and the woodland supports a pair of sparrow hawks.
When to visit?
Eagle species, buzzard and sparrow hawk can be seen here throughout the year.
Spotting Tip
In flight white-tailed eagles can be distinguished from golden eagles by their broader wings, shorter wedge shaped tail and larger protruding head and bill. Due to their size sea eagles are often referred to as 'flying barn doors!'
Other wildlife
The shore of Loch Seaforth is well used by otters and red deer are often seen around the woodland edge especially during winter.
How to get there?
Aline Community Woodland is located in Southern Lewis. The car park is adjacent to the A859 (the main road between Tarbert and Stornoway), 3 miles north of the Lewis/Harris border.
Trail Map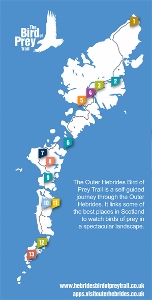 TripAdvisor
Map & Directions