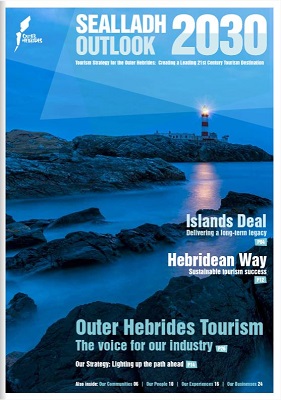 Our strategy sets out the strategic framework for growing tourism on the Outer Hebrides - setting out the Vision & Mission for tourism and the means whereby they will be achieved
It is the local response to the national tourism strategy Scotland's Outlook 2030 - to make Scotland the " Leader in Twenty-First Century Tourism". The national strategy is built around four key priorities - thriving places, memorable experiences, passionate people and diverse businesses.
The strategy is owned and delivered through a leadership group comprises Outer HebridesTourism, Highlands and Islands Enterprise, Comhairle nan Eilean Siar and VisitScotland,
Our first strategy Tourism Outer Hebrides 2020 was launched in April 2014, and can be found here.
SEALLADH/OUTLOOK 2030
Tourism Outer Hebrides 2030 was developed in response to the publication of the National Strategy in March 2020 and to reflect the impact of COVID-19. It was published in spring 2021.
Our Vision
"Their stay with us is the highlight of our visitors' holiday in Scotland"
WE INSPIRE curious travellers everywhere to visit our chain of Wild Atlantic Islands. Those from just across the Minch and those from the four corners of the globe; Those seeking a holiday of vibrant adventure and those seeking sanctuary from a frenetic world.
We WELCOME every one of them as a friend. Those on their first trip and those who have been coming for as long as they can remember; Those returning to the place their family once called home and those arriving to make a new home here. Our Islands FEED their soul like nowhere else, inviting them to: Explore our landscape and unique culture; Encounter a different and special way of life; Expand horizons, no matter how long they stay.
Our Mission
"Tourism helps provide prosperity for all"
Harnessing the passion, energy and drive of our islands to create authentic experiences from more of our unique, natural, and cultural assets - to grow tourism sustainably.
In doing so this will help stimulate population growth, engage with our vibrant communities, ensure businesses thrive, enhance economic performance, and provide other opportunities.
Our islands are multidimensional, important, proud, traditional, beautiful. By balancing the economic benefits of tourism without compromising the quality of life enjoyed by local residents and our unique environment, we can all achieve the above goals.
Our Aims
"Make a positive contribution to our islands"
To actively engage everyone in the development and promotion of tourism. Together we can positively enhance the benefits of tourism across the Outer Hebrides by delivering an outstanding experience for our visitors and the absolute best for our businesses, our people, our communities and our environment.
We aspire to a sustainable visitor economy which supports - not damages – these shared values.
Our aims are ambitious:
• Creating new memorable visitor experiences, delivered by skilled and passionate people that increases spend per head
• Maintaining our outstanding visitor satisfaction levels and number of returning visitors by ensuring visitors love their stay
• Working with transport to ensure capacity does not hinder our industry, nor islanders' travel plans
• Helping to deliver infrastructure improvements to accommodate visitors in ways that enhance rather than undermine island life
• Contributing to vibrant communities and preserve our unique heritage and way of life
• Acting as pioneers for delivering responsible tourism, reducing our footprint and working alongside our communities
• Encouraging emerging young talent, driving leadership and the right skills for tourism from within Scotland
• Creating additional employment opportunities for existing islanders and encouraging those elsewhere to make their home here
• Supporting our businesses to develop and promote their unique offers and grow the value of our industry sustainably
• Creating an out of season demand into the autumn and winter months
• Lead and deliver a digitally innovative and collaborative destination. A well-managed destination attracts inward investment, talent, skills, and a shared value. This makes our islands a great place to live, work, invest and visit.