About
Category: Moderate-exacting walk
Walking Distance: approx 12km / 7.5 miles
Time: allow five to six hours to complete the full circuit
Map Reference: OS Landranger 18 and Pathfinder 116 (NF88 / 98)
The walk starts and finishes at the community centre at Borve, where there is car parking.
Leave the Community Hall on foot, go through a gate on your right and follow the waymarkers up Beinn a' Claidh to the standing stone at Cladh Maolrithe. Descend on the other side of the hill, until you reach the main road.
Turn left here and follow the road for 3km as it winds past Borgh Hill, past the harbour and around Loch a Bháigh. Keep to the right at Ruisgearraidh and follow the road to Baile. Then follow the road along the machair for 1.3km, go through the gate (remembering to close it behind you) and follow the waymarkers along the shore, keeping off the slopes of Beinn Ghainche (Sand Hill).
Once past the fenceline, follow the waymarkers up to the summit of Beinn Shleibhe, where you can enjoy spectacular views over the Sound of Pabbay. Descend to the north coast of Berneray and then walk for 3.5km along the most breathtaking beach or on the dune above it, turning the corner slightly at Rubh' a' Chorrain. Turn to the left and follow the waymarkers for 1km across the machair to Scalabraig where you can see archaeological remains including the enigmatic Chair Stone. The route returns to the Community Hall.
Click on to the image below to download a leaflet for this walk: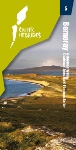 TripAdvisor
Map & Directions