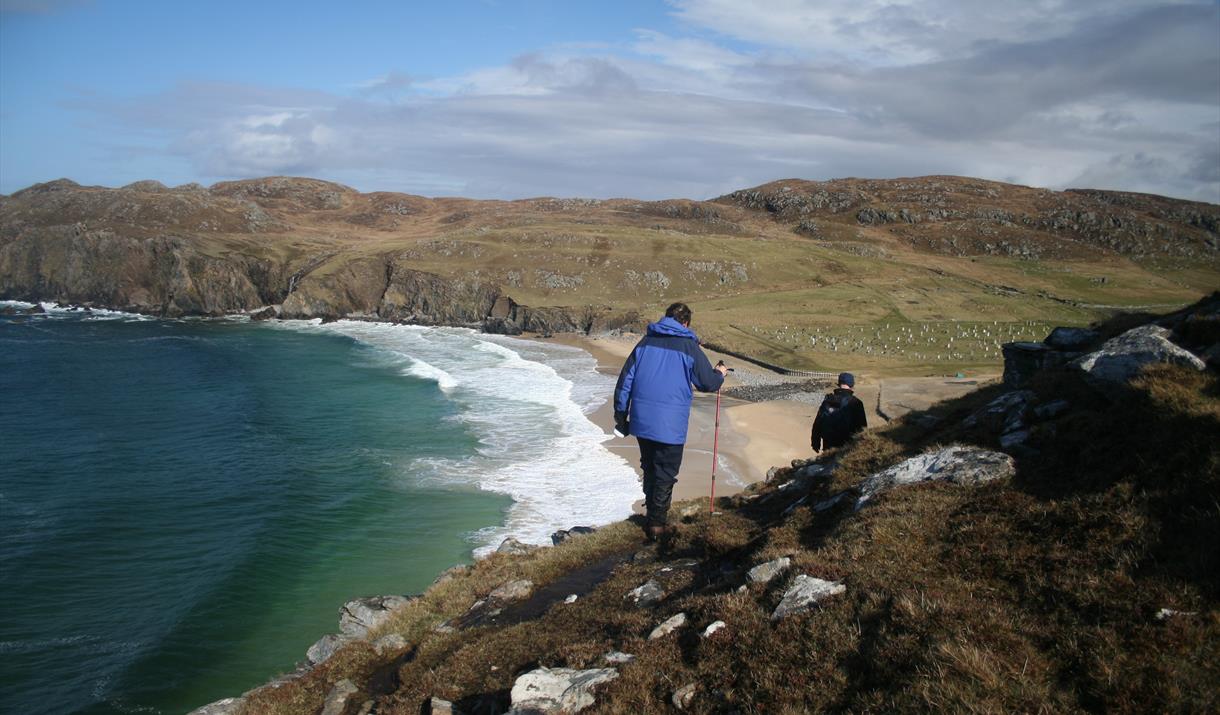 About
This waymarked route crosses some stunning beaches as it winds its way between the townships on the west side of Lewis making best use of old pathways wherever possible. It is never far from a road end, so it can be easily cut short in poor weather, or split into shorter walks which can be easily fitted into a day of sightseeing. The West Side Circular bus route passes along the main road in both directions with frequent services around school times so you can easily get back to the start. Better still, park up first and take the bus to the start removing any doubt about missing a bus later in the day. Check the current timetables on line www.cne-siar.gov.uk/travel/ or pick up a copy at a local tourist information office.

[This walk is described in detail and illustrated with Ordnance Survey map extracts in 'Walking on Harris and Lewis' by Richard Barrett, published by Cicerone Press 2010. Unless otherwise indicated, all images used here are copyright of the author.]
Map & Directions
Route Waypoints
Walk down through Gearrannan village to the information board, go through the gate and follow the marker posts over Aird Mhòr and Aird Mheadhonach. This first section can be very wet underfoot and fording Fivig Burn and Allt na Muilne can require a diversion inland to find a suitable crossing place. Besides the views out to sea, there are a couple of interesting features to look out for. The first is the remains of an illicit whisky still, concealed behind some boulders on Aird Mhòr (NB194453). Locating this will test your navigation skills or require a GPS. But you cannot help notice the pinnacle-like stack of Stac a Chasteil (NB202454) joined to the cliffs by a rocky arête. Sometime between 200BC and 200AD, a blockhouse was built on the stack and there is evidence of defensive walls that separated it from the mainland.

The path eventually traverses around Beinn Bheag and follows a descending route around the back to Bagh Dhail Mor to reach the road. Don't be too surprised if this section takes a disproportionate amount of time; the terrain improves from here. Walk up the road to an information board and follow the marker posts up over the better ground between Cnoc na Moine and Creag an Taghain.

As you approach Dail Beag, the route turns inland alongside a fence to a stile and down to a footbridge that spans Allt Dhaill Beag. Walk down towards the beach to pick up the marker posts at the picnic site and follow them directly up the open hillside to a stile and across the easy ground of Tom Tolalge, Carnagil Bhàn and Druim Bratag.

The cliffs are dramatic at this point. Stac a' Phris (NB 233472) has a large natural arch that can easily be viewed from the north and is a nesting ground for gulls and kittiwakes in late spring and early summer. Rubha na Beirghe (NB 235475) is a large, accessible promontory that has the remains of a fortified dwelling. Further on, just inland of Rubha Caol (NB243477), there is a deep hole where the cliffs enclose the sea.

Follow the posts around Rubha Neidalt, along the western shore of Loch Shiabost and across the causeway to reach the road at Siabost bho Thuath.