Hebridean Way
---
Visiting in 2020? There are a few changes you need to be aware of this year. Click on the links for a Guide to a Great Stay and What is Open in 2020.
---
The Hebridean Way passes through some of the most spectacular landscape in the UK. With a 156 mile long distance walking route and separate 185 mile long distance cycle network route (NCN 780), over 10 islands 6 causeways and 2 ferries, the Hebridean Way is one EPIC adventure!
---
Hebridean Way Pit Stops are a series of places to stay, cafes, shops, visitor centres, bike transfer, bike hire companies who will help you rest, refuel, restock and repair along the way!
Check out our maps in our Hebridean Way Online Shop and look out for our new range of official Hebridean Way merchandise.
---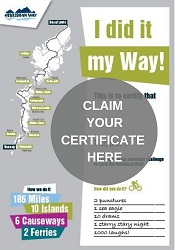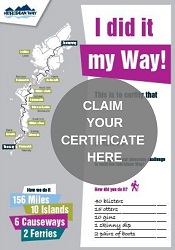 A great way to keep your Hebridean Way adventure alive, are free downloadable personalised Cycling Completion certificates and Walking Completion Certificates.
How did you walk or cycle the Hebridean Way?
Steeped in History, the Hebridean Way stretches along the length of the Outer Hebrides from Vatersay in the south to the Lewis in the north. The route passes through 10 Islands linked by a combination of causeways and ferries, over rugged hills and along dazzling Atlantic coastline.
The stunning landscapes, the geology, wildlife, heritage and scenery of the Outer Hebrides are truly awe-inspiring. The Outer Hebrides retain a culture that is different to mainland Scotland, Gaelic is often spoken as a first language and there remains a sense of culture and tradition on each of the inhabited Islands that make up the Outer Hebrides.
The Hebridean Way cycling route follows the National Cycle Network 780, following both main and quiet roads, whilst the Hebridean Way walking route has a combination of purpose built sections, existing footpaths, peat tracks, and quiet roads.
Done the Hebridean Way? We would love to here about your experience! Click here to complete our brief survey.
---
Mark Beaumont - Hebridean Way Cycling Challenge
On the 10th and 11th March 2016 Mark Beaumont , record breaking endurance cyclist, took on the challenge to launch the new Hebridean Way cycling route (NCN780), by cycling the full length of the Outer Hebrides, from Vatersay to the Butt of Lewis, in 24 hours. After 185 miles, 10 islands, 6 causeways, 2 boat crossings and just 12 hours in the saddle, Mark completed his challenge! Read more about his incredible challenge here.
---
Use the Itinerary Planner to plan your perfect holiday, then either book it yourself or send it to our local holiday operator partner for a complete quotation.
Itinerary Planner
Build your own itineraries by clicking the

button to add an item to your Itinerary basket.
If you already have an itinerary saved, you can access it below.