About
Grade: Moderate Walk
Time: Allow 3 Hours
Distance: 8.5Kilometres/5.25 miles
Map Reference: OS Landranger 31 and Pathfinder NF71 / 81 / NF60 / 70
If travelling from South Uist,when you reach the end of the causeway turn to the right and continue along the main road up the hill, past the crossroads at Rubha Ban, down past 'Am Politician', past the cemetery and on to the old cemetery. There you can see the grave of Father Allan Macdonald. Continue along the track and shore until you reach Coilleag a' Phrionnsa, the beach where Bonnie Prince Charlie first stepped ashore in Scotland. Walk right along to the other end of the beach and walk up the footpath, which will take you up to the main road.

Turn left and walk up to the junction. At the junction, turn right towards Acarsaid. Follow the road right along round a sharp bend which will take you past Acarsaid Harbour. When you reach the trees you should follow the rock face uphill for a panoramic view of the islands of Skye, Soay, Canna, Eigg and Muck and on a clear day, Mull, Tiree and Coll. Retrace your steps to the trees and continue along the track to the right. At the end of the track, follow the way markers across a stile, along the shore and up the hill fence until you see a lily covered loch hidden away in a small dip. Nearby at the end of the walk is a secluded little bay where you might catch sight of otters.

Retrace your steps back to the main road, along past the letterbox and keep going until you see a track with a gate going off to the right. Follow the track on the short climb up to Loch Crakavaig, past the water station. Head north from the loch to get to the road again. On your approach enjoy a spectacular view of Eriskay and the archipelago North and South. Return to the right back along the main road, passing on your way, The Statue of Our Lady of Fatima, erected on the site of the original Catholic church of Eriskay.
Click on to the image below for a downloadable leaflet of this walk::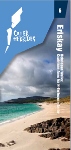 TripAdvisor
Map & Directions
Detailed Route Instructions